120pcs T-Tap Wire Connectors-TTS120
Model No.: TTS-120
Features:
TAP INTO ANY WIRE WITH EASE – iCrimp Self Stripping Electrical T Tap Connectors will tap into any wire without needing to cut, strip, or solder. Mid-span wiretapping has never been easier before.
THICK TINNED COPPER CONTACTS – Thicker tinned copper contacts will not bend even when tapping into thicker wires.
QUALITY TTAP CONNECTOR HOUSING – Quick splice T Tap connectors will securely lock on the wire. Plastic housing will not open after it has snapped on the wire.
PERFECTLY FITTING MALE QUICK DISCONNECTS - Nylon male disconnects have been designed to lock tightly on the T Tap connectors to prevent sliding out.
VERSATILE KIT - 60 PCS T-Tap Wire Connectors + 60 PCS Male Quick Disconnects will last for numerous wiring projects. Marine, automotive, scientific, home wiring projects - you name it.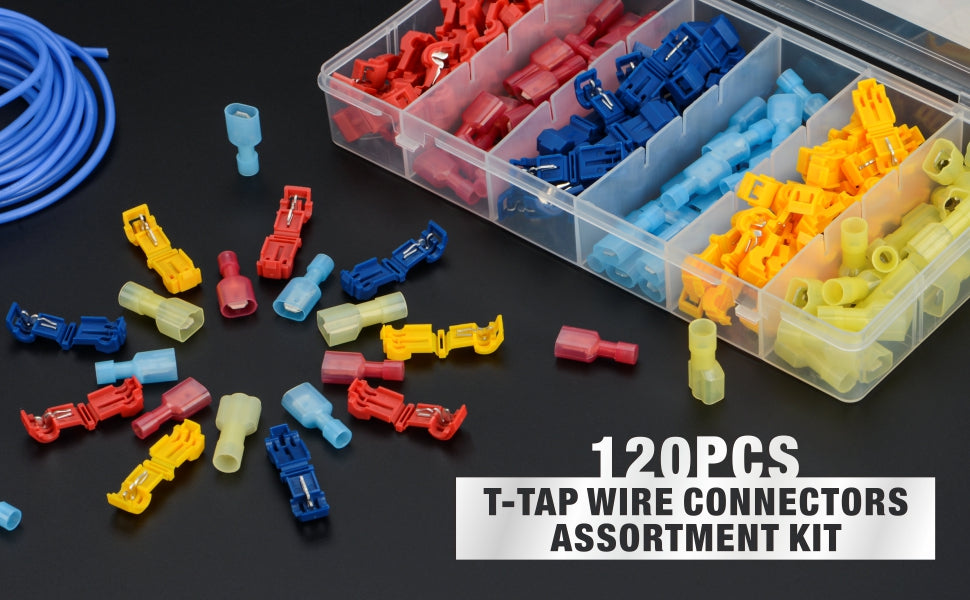 1.Where is it made?
   -The items are made in China.
2.What is IWISS?
 -IWISS is an enterprise specializing in manufacturing, marketing and R&D of electric tools, cable tools, pipe tools, packing device, high&low voltage electric appliance and so on.
3.How long will delivery take?
  -We will process and fulfill the orders in 1-3 working days , then your items will be dispatched in 3-5 working days.
4.How would you send the products?
 -We usually ship by Fedex or DHL air express.And we can support shipment via TNT, UPS,USPS,EMS and so on. 
5.How should I make the payment?
 -Via Paypal.
6.What's the quality?
 -We have past ISO9001:2008 international quality management system.